We have setup a new feature on Workviews being that you can now turn off auto-recalculation. This will allow report developers to make multiple changes to a report in quick succession without having to recalculate or cancel the recalculation of the workview in between each change.
There is a poll attached to this post to determine how we roll this out across the platform and existing customers.
If the poll options are not comprehensive enough for you, please reply to this thread with your thoughts.
Screenshot - New Workview Setting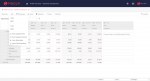 GIF - Changing Sets with Auto-Recalculation Turned Off
Last edited: